Welcome to a maintenance-free neighborhood environment.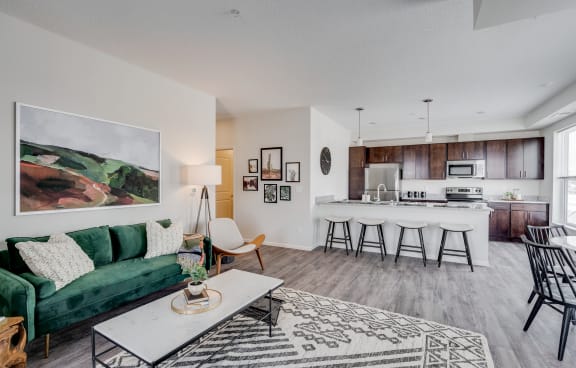 Sundance Woodbury
Who says you need a mortgage to live like a homeowner? For downsizing empty-nesters and individuals ready to put down roots, Sundance offers the perfect balance of rental freedom and residential stability. Each of our spacious apartment homes features open kitchens, contemporary conveniences, and premium finishes - all within a thriving, maintenance-free neighborhood environment. No more parking lots, lobbies, and elevators. This is a lifestyle of open green space, families, and friends. Pull into your own driveway, park in your own garage, and step up to your own front door. Plus, enjoy access to a wealth of resort-style amenities homeownership just can't provide - like a premium fitness center, pool and sun deck, on-site playground, pet park, community clubhouse, and more.

Welcome to apartment living that truly feels like home. Welcome to Sundance.
Offering the perfect balance of rental freedom and residential stability.
Located in a quiet residential setting with easy access to major employers, great schools within the Stillwater school district, and thriving commercial centers, Sundance Woodbury provides everything you need to build a career, raise a family, retire in comfort or just enjoy life. Offering a range of spacious and stylish rental apartments - each featuring a dedicated driveway, garage, front door and yard - Sundance Woodbury delivers a financially flexible, neighborhood lifestyle without the hassle of homeownership.
Bridging The Gap Between Luxury & Sustainability
Sundance Woodbury skillfully blends premium style and sustainable living. From the Energy Star appliances and LED lighting throughout your home, HVAC equipment with increased efficiencies, to the rainwater re-use irrigation system, welcome to a neighborhood where sustainability and luxury living go hand in hand.
No mortgage, no maintenance. Just steps from your own resort-style getaway anytime you need it.